---
Mentorship, education, and community engagement are core components of my approach to science and conservation.
Please email me with any opportunities, ideas, or questions about how to get involved!
---
Mentorship —
I have mentored >20 undergraduate students and recent grads in a range of settings, such as field and lab work, providing edits on proposals, and writing recommendation letters. I enjoy mentoring students pursuing formal independent projects within my research program. Many of my mentees have moved on to professional positions or graduate school, and these collaborations have also resulted in coauthorship on publications. I encourage any students interested in getting involved in my work to email me!
---
Fulbright Fellowship Project —
In 2018, I completed a Fulbright Fellowship in Antigua that focused heavily on community engagement. My engagement efforts ranged from classroom visits, to coordinating seminars, and even making local TV and radio appearances. My work as a Fulbright Fellow has proven to be a building block toward productive and lasting relationships.
My efforts were focused in a threefold approach: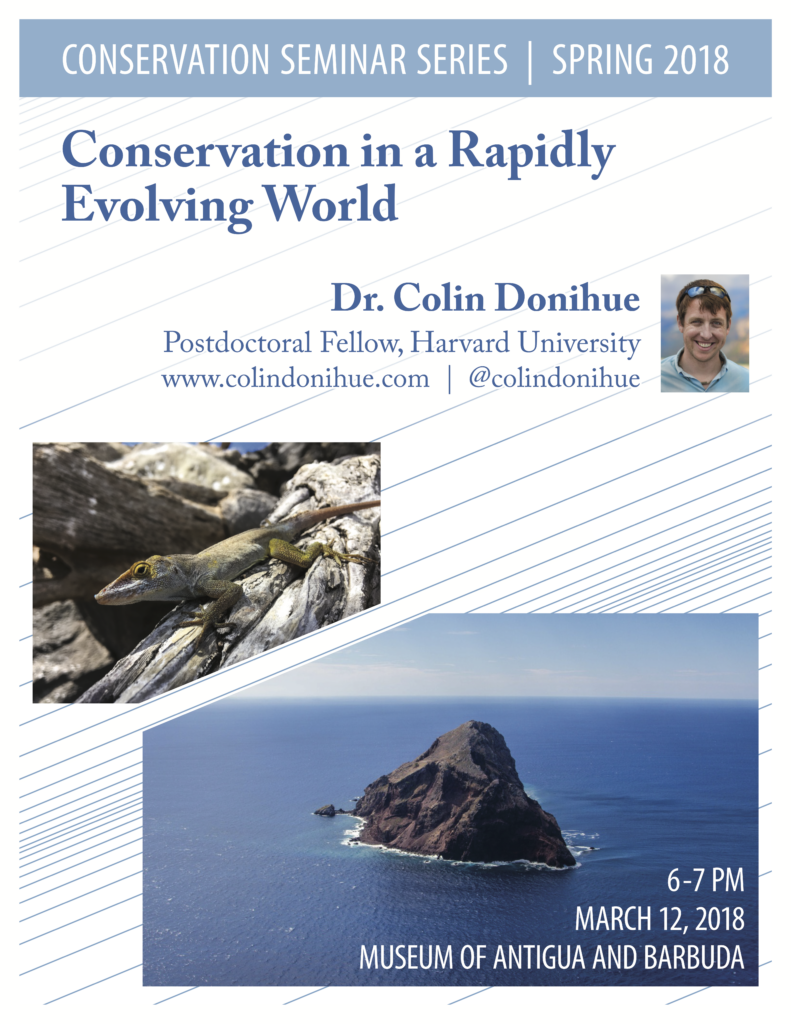 Coordination of a conservation seminar series with collaborators at Antigua State College, the Department of Environment, the Antigua Awareness Group, and the general public. Local and international speakers presented work on diverse subjects at the Museum of Antigua and Barbuda monthly. For example, pictured to the right, I hosted Dr. Colin Donihue who is doing fascinating work on the nearby island of Redonda.
Collaborations with students for sea turtle field research. Antiguan students assisted with leatherback patrols and saw some massive nesting turtles, and I coordinated three internships for hawksbill nesting monitoring in Barbuda.
Primary and secondary school visits with a marine conservation and environmental awareness educational module. I traveled throughout the country and gave presentations in science classrooms.
---
Educational Engagement —
I frequently engage with various groups—primarily students—as an educator. While working with the Jumby Bay Hawksbill Project in Antigua, I participate in activities ranging from presentations at primary schools and children's summer camps, to weekly "Turtle Tuesday" children's education at a nearby resort, and frequent first-hand turtle nesting experiences in the field ("turtle watches") with Antiguans and tourists. I also visit classrooms in the US, ranging from after school science clubs to invited lectures at universities.
During my research in Antigua, I have also participated in multiple field research exchange opportunities with researchers from local collaborating projects. These collaborations are productive for greater conservation goals in Antigua and Barbuda, and are a great way to both learn and pass on information.
---
Teaching —
I worked as a Teaching Assistant for four semesters during my PhD at NC State University. As a lab instructor for 300-level Ecology, I led lab sections featuring observational and experimental studies. The lab curriculum involved outdoor, hands-on learning where students actively collect, analyze, and interpret data. I was honored to receive NC State University's "Recognition for Excellence in Laboratory Teaching" award in 2017.